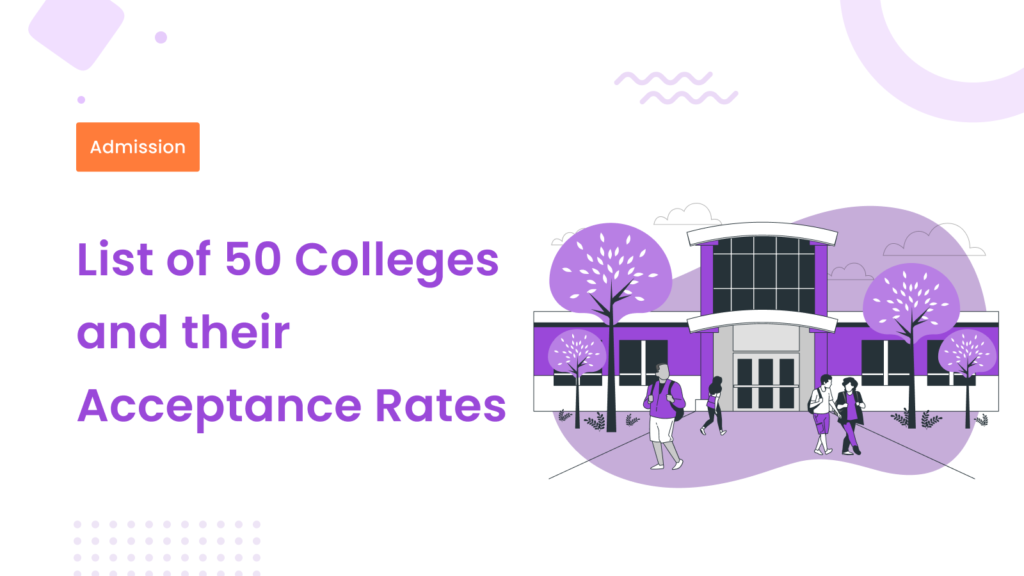 College acceptance is the process by which universities and colleges determine which applicants will be offered enrollment. This process typically involves the review of academic transcripts, test scores, essays, and other application materials to assess a student's qualifications and potential for success. Through this process, colleges determine if the students they want to admit will be capable of successfully handling university life and completing their education.
Why is a college's acceptance rate important to me at all?
Colleges can be very selective of the students they offer admissions to. And while recent policy changes like the Diversity, Equity and Inclusion Policy (DEI) so students from low-income backgrounds may get more acceptances from their favored colleges. Even so, understanding the college acceptance process can be helpful for students and families as they navigate the college application process.
When applying to colleges, there are plenty of things to consider. You want to make sure the school has your desired major, it's in a location you're comfortable with, has good placement rates (it matters if you want to get a cushy salary) and ensure you still have a social life. Plus, you want to keep in mind the student dropout rate because, according to the Education Data organization, 32.9% of undergraduates do not complete their degree programs, and a staggering 24.1% of first-time freshmen drop out within 12 months of their degree programs.
Another thing to think about is getting accepted. Some colleges waitlist applicants after they've sent out acceptance letters, which can be a long and stressful process. To avoid that, make sure your grades are up to the college's standards and if you're applying to test-optional schools, make sure your essays and grades are top notch.
An important factor to keep in mind when applying to college is the test-optional policy. Some colleges don't require you to take the SAT or ACT, so it's important to focus on making your grades and personal essays as strong as possible. This will increase your chances of getting accepted.
Do I apply only to colleges with great acceptance rates?
You want to be careful when applying to colleges. We recommend making a checklist of all the requirements you want from a college and comparing them accordingly as you apply. But you need to keep a checklist of your eligibility as well.
Different colleges have different acceptance rates for many reasons. Colleges with high acceptance rates often have a more open admissions process, focusing less on test scores and more on other factors like essays, recommendations, and extracurriculars. Plus, they may have a larger pool of applicants which makes it easier to have a higher acceptance rate. Remember, just because a college has a high acceptance rate, doesn't mean you'll have a smooth sailing academic life or a guaranteed job afterwards.
On the other hand, there are Ivy League universities having very low acceptance rates – as low as 4-6% of applicants get in. Their screening process is very rigorous which might seem unfair. However, these schools have top-notch academic reputations and give you a chance to have an incredible learning experience and great career opportunities.
The option of applying to different colleges is entirely yours. But if there is a particular university you wish to join, follow these tips to get your grades up (school or SAT/ACT) here, here and here.
List of colleges and their acceptance rates
If you're still confused about where you want to apply, it's okay. We've put together a list of some colleges in the US and their acceptance rates, as well as what they look for in applicants and their graduation rates. This way, you'll have a better idea of which schools might be a good fit for you and your goals. Keep in mind though, acceptance rates aren't the only thing to consider when applying to college. This list will give you a starting point and give you a better idea of what to expect from different colleges.
| | | | | | |
| --- | --- | --- | --- | --- | --- |
| College Name | Location | SAT Range | ACT Range | Acceptance Rate | Graduation Rate |
| Antioch College | Yellow Springs, OH | 1200-1350 | 22-23 | 85% | 66% |
| Arizona State University | Tempe, AZ | 1100-1320 | 21-28 | 88% | 66% |
| Atlantis University | Miami, FL | – | – | 100% | 94% |
| Baylor University | Waco, TX | 1200-1380 | 26-32 | 68% | 79% |
| Boston College | Chestnut Hill, MA | 1330-1500 | 31-34 | 26% | 92% |
| Boston University | Boston, MA | 1310-1500 | 30-34 | 20% | 89% |
| Brown University | Providence, RI | 1440-1560 | 33-35 | 8% | 95% |
| California Institute of Technology | Pasadena, CA | 1530-1580 | 35-36 | 7% | 92% |
| Cambridge College | Boston, MA | – | – | 100% | 20% |
| Carnegie Mellon University | Pittsburgh, PA | 1460-1560 | 33-35 | 17% | 93% |
| Columbia University | New York, NY | 1460-1570 | 33-35 | 7% | 96% |
| Concordia University | Austin, TX | 980-1180 | 19-24 | 93% | 43% |
| Cornell University | Ithaca, NY | 1400-1540 | 32-35 | 11% | 95% |
| Dartmouth College | Hanover, NH | 1440-1560 | 32-35 | 9% | 95% |
| Davidson College | Davidson, NC | 1300-1460 | 30-33 | 20% | 93% |
| Daytona State College | Daytona Beach, FL | – | – | 100% | 43% |
| Duke University | Durham, NC | 1470-1570 | 34-35 | 8% | 96% |
| Fashion Institute of Technology | New York, NY | – | – | 59% | 83% |
| Florida State University | Tallahassee, FL | 1220-1350 | 27-31 | 32% | 84% |
| George Washington University | Washington, DC | 1270-1450 | 30-33 | 43% | 85% |
| Harvard University | Cambridge, MA | 1460-1580 | 33-35 | 5% | 98% |
| Haverford College | Haverford, PA | 160-1520 | 32-35 | 18% | 93% |
| Jacksonville University | Jacksonville, FL | 910-1160 | 18-26 | 78% | 51% |
| Johns Hopkins University | Baltimore, MD | 1470-1560 | 34-36 | 11% | 94% |
| Lehigh University | Bethlehem, PA | 1260-1430 | 29-33 | 50% | 88% |
| Massachusetts Institute of Technology | Cambridge, MA | 1510-1580 | 34-36 | 7% | 96% |
| Middlebury College | Middlebury, VT | 1340-1520 | 31-34 | 22% | 94% |
| New York University | New York, NY | 1370-1540 | 31-34 | 21% | 88% |
| Northeastern University | Boston, MA | 1410-1540 | 33-35 | 20% | 90% |
| Parsons School of Design | New York, NY | – | 21-26 | 63% | – |
| Princeton University | Princeton, NJ | 1450-1570 | 32-35 | 6% | 98% |
| Rice University | Houston, TX | 1460-1570 | 34-36 | 11% | 94% |
| Stanford University | Stanford, CA | 1420-1570 | 31-35 | 5% | 95% |
| Swarthmore College | Swarthmore, PA | 1390-1540 | 31-34 | 9% | 97% |
| Texas A&M University | College Station, TX | 1160-1380 | 26-32 | 63% | 83% |
| University of Akron | Akron, OH | 990-1230 | 19-25 | 77% | 48% |
| University at Buffalo, SUNY | Buffalo, NY | 1140-1310 | 23-29 | 67% | 75% |
| University of Chicago | Chicago, IL | 1500-1570 | 34-35 | 7% | 96% |
| University of Connecticut | Storres, CT | 1170-1390 | 27-32 | 56% | 83% |
| University of Dallas | Irving, TX | 1130-1350 | 23-30 | 54% | 69% |
| University of Georgia | Athena, GA | 150-1460 | 29-33 | 48% | 87% |
| University of Michigan, Ann Arbor | Ann Arbor, MI | 1340-1520 | 31-34 | 26% | 93% |
| University of South Carolina | Bluffton, SC | 940-1110 | 17-22 | 67% | 34% |
| University of Southern California | Los Angeles, CA | 1340-1530 | 30-34 | 16% | 92% |
| University of Texas – Austin | Austin, TX | 1210-1470 | 26-33 | 32% | 88% |
| University of Tulsa | Tulsa, OK | 1080-1330 | 23-31 | 69% | 73% |
| University of Virginia | Charlottesville, VA | 1320-1510 | 30-34 | 23% | 94% |
| University of Wisconsin | Madison, WI | 1260-1460 | 27-32 | 57% | 88% |
| Vanderbilt University | Nashville, TN | 1470-1570 | 33-35 | 12% | 93% |
| Yale University | New Haven, CT | 1460-1580 | 33-35 | 7% | 96% |