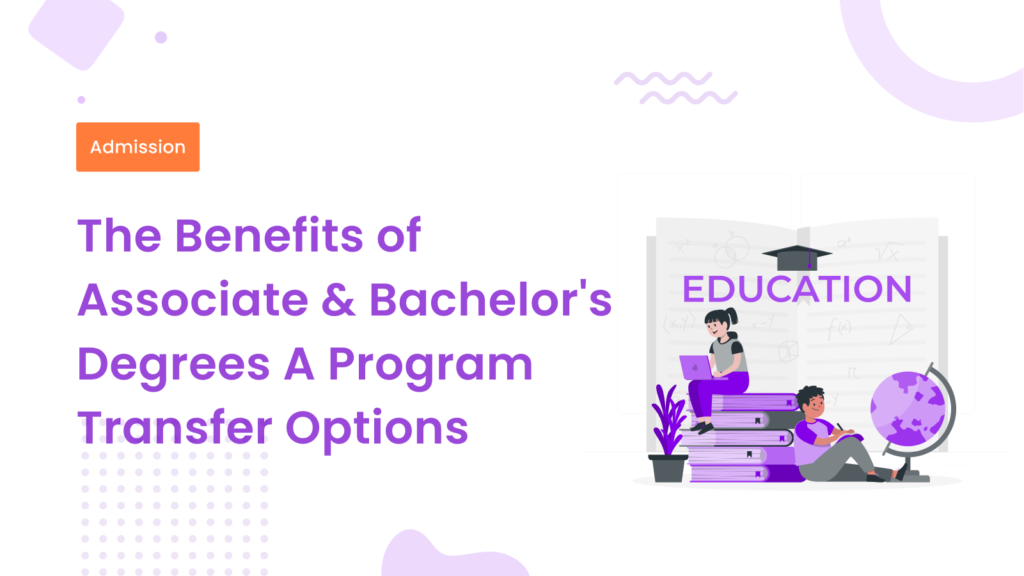 There are plenty of options for students after high school, but how do you know what to choose? How can you decide which choice fits you best? Let's look at the options available, starting with undergraduate degrees.
As a senior, you are reaching the end of the academic year. All your assignments are submitted and your SAT/ACT exams are completed too. Your focus is now on securing your college admissions. You know what your interests but how do you figure out what kind of course to apply for?
Most colleges in the US allow students to opt for 2 or 4-year courses, but it depends upon the course/subjects. Pursuing a 2-year course awards you an Associate degree, and a 4-year course awards you a Bachelor's degree. Apart from time, the main difference lies in what you learn before you graduate.
What is an Associate degree?
An Associate degree gives you a broad or general education. You will be introduced and taught the fundamental basics of the skills or subjects you have chosen. This prepares you for entry-level jobs in specific fields, which means immediate employment. From there, you can work up to higher positions. According to the US Bureau of Labor Statistics, people with associate degrees earn a median range of $40,000 and more.
The major advantages in choosing a 2-year program are:
Shorter duration and lower cost: Compared to a Bachelor's degree, your tuition costs are much cheaper. College Board reports that the average cost of an Associate degree per year is $3,860, while a Bachelor's degree costs $10,940 per year.

Provides students with an opportunity to gain practical skills and knowledge in a specific field – the skills you learn allow you to find work anywhere.

Can lead to immediate employment in certain industries: Especially if you have learnt technical skills that are much required in specific industries requiring certain specifications in work.

Can be used as a stepping stone to a bachelor's degree: Taking a 2-year course allows you to learn different subjects from a general perspective. It can help you decide about specializing if you wish to transfer to a Bachelor's course later.
Sounds great, right? Well, lately, a lot of companies want employees with specialized skills and a deep understanding of their field. That's where having a Bachelor's degree comes in handy, especially if you have a specific career in mind.
What is a Bachelor's degree?
Bachelor's degrees are a four-year program that let you 'major' in a particular subject. The first two years are pretty similar to an Associate degree, but from year three, you get to pick classes that directly relate to your major – think physics, biosciences, business, or IT. A lot of students choose their college based on their major, which is a great thing about a Bachelor's. You get two whole years to learn more about your field and become an expert, making you more competent. This is what most employers look for when they want to hire people for particular roles.
Let's look at some more advantages of a Bachelor's degree:
Offers a wider range of job opportunities: A Bachelor's degree opens up a wider range of job opportunities, more advanced positions and higher salaries.

Helps students develop more skills: Pursuing a Bachelor's degree helps students develop important skills such as critical thinking, problem-solving, and communication valuable in any career, or graduate-level studies.

Provides more chances for career advancement: Students are more likely to experience job satisfaction and have the opportunity for career advancement and growth.

Prestige: A Bachelor's degree is often seen as a symbol of academic achievement. So it carries a level of prestige and makes it easier for graduates to stand out in the job market.

Networking: Students get the opportunity to form connections and network with peers, professors, and potential employers. These bring value to their careers.
Having a Bachelor's degree is rewarding: you have a higher pay, stable financial situation. You also have access to a better lifestyle. Plus, you can decide to resume your studies after working for a few years. Enrolling in graduate-level courses will not pose a problem at all.
Can I transfer from an Associate degree?
If you are attracted to the possibility of specializing in a particular field, it is possible to transfer into a Bachelor's degree from a 2-year course. To do this however, you'll have to plan early. The keys for successfully transferring are:
Know if your college has the option to convert, or has a tie-up with any university that accepts transfers.
Maintain the required GPA so you can transfer. A Bachelor's degree requires you to have prior knowledge about certain basic concepts before specialization is possible.
Not all two year program courses have transferable credits. Speak to your college advisor so you can take courses that do have it. This saves you from spending a lot of time and money in your Bachelor's program.
If your college has a transfer program, sign up for it. This helps you prepare and manage expectations when you transfer into a Bachelor's program.
Whether you're in a two-year or a four-year program, college can be hard. That's where Seven Square Learning can help you out. We provide tutoring, as well as homework help, enabling you to have a more productive learning experience. Want to know more? continue to our website to see how we can help you out. You can also read more blogs featured below.